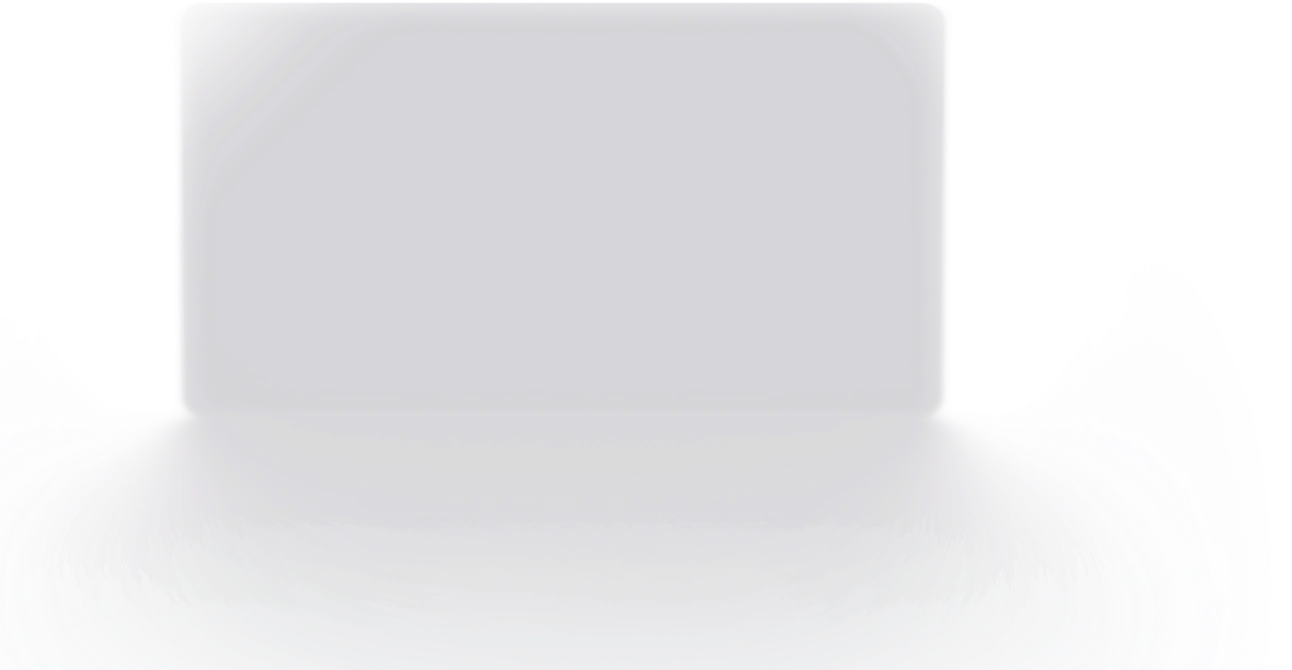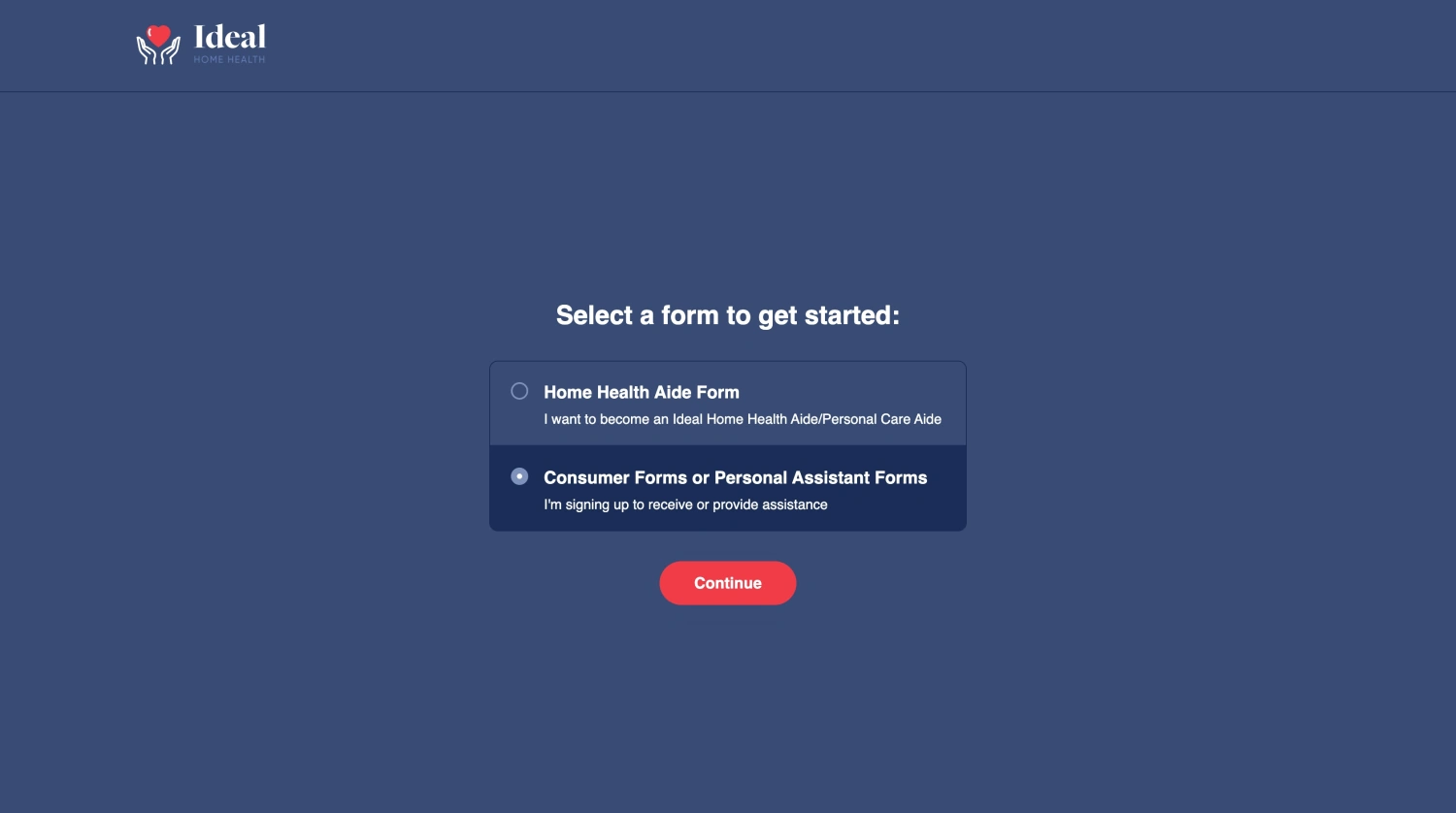 Caregiver
Management
Digital Case Study
Management software
Improving caregiving services by transformation processes into digital
Our IdealHomeHealth client now has a significant advantage over its competitors that will keep it ahead of the curve for a long time to come and set the pace. All paperwork, all bureaucratic routine is now digitized, everything is now on the computer and can even be done remotely.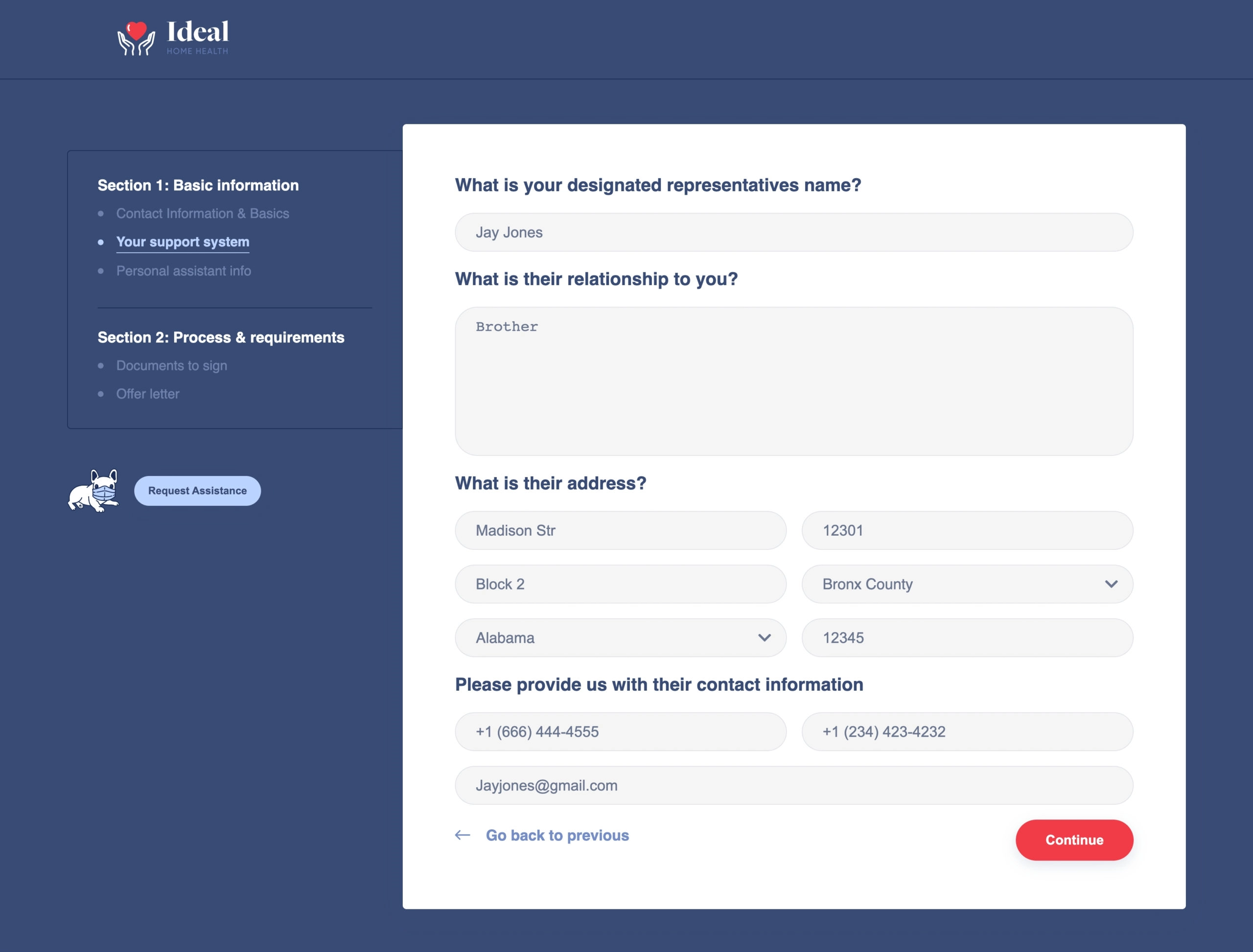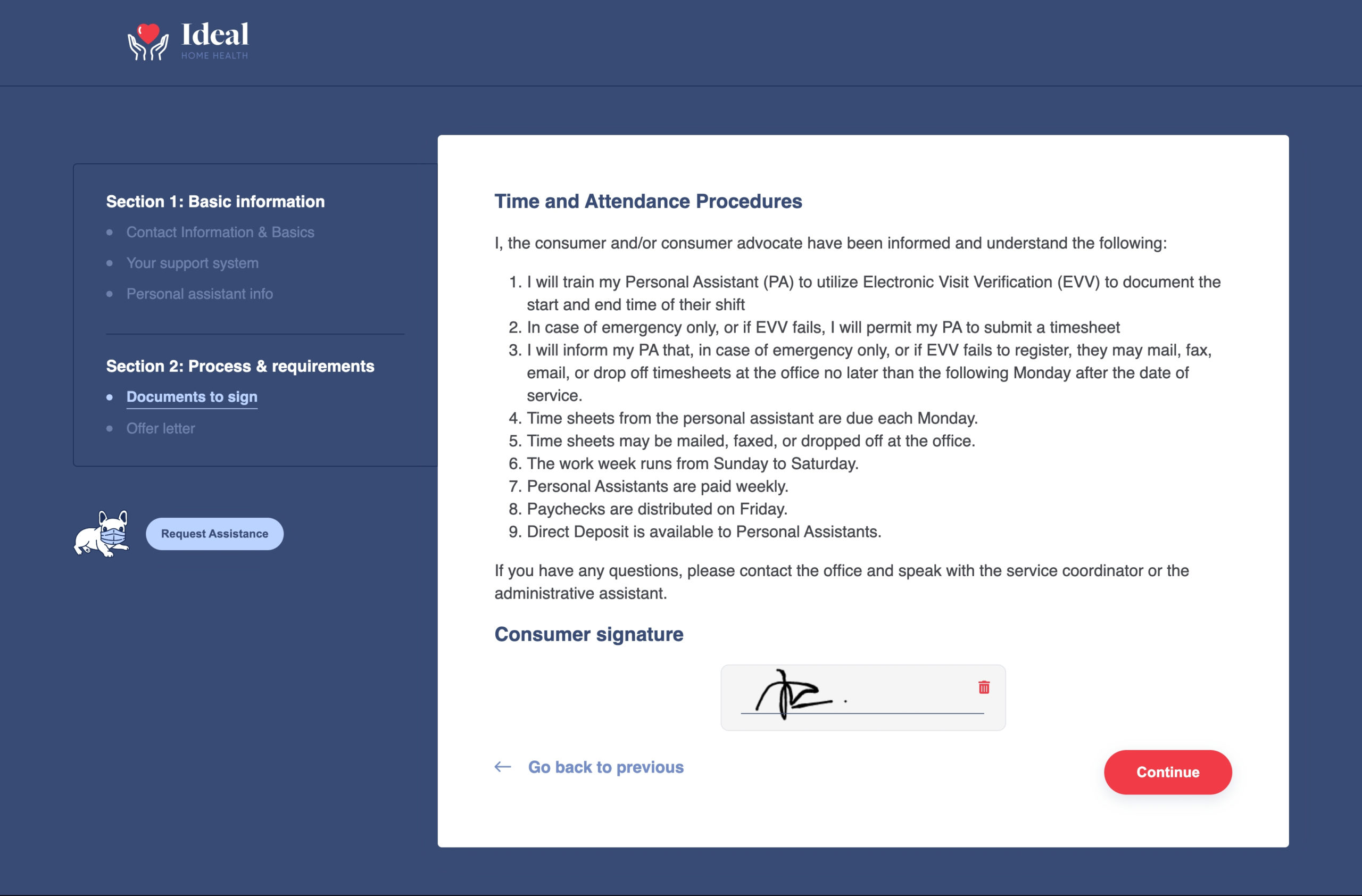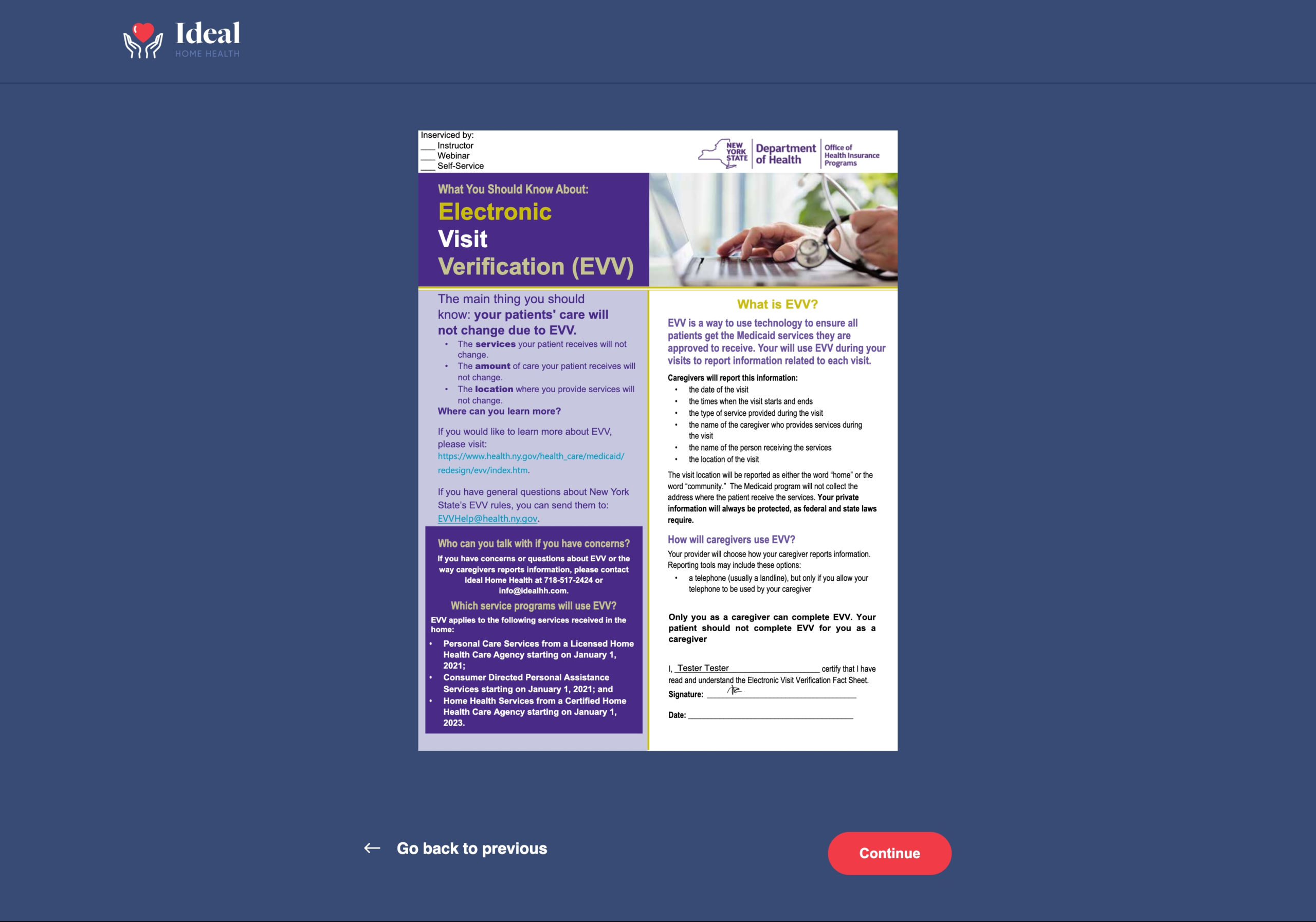 What we did?
Designing structure and architecture, UI/UX, full implementation and development.
Multiple revisions and upgrades due to changes in government requirements and laws.
Long-term maintenance and support, implementation of new forms and features, scaling of admin panel functionality.
Of course, once again we want to note what a revolutionary breakthrough in bureaucracy and filling out tons of paper forms this custom application allows. Along with all the more or less typical functionality for all users and admins, the most difficult and important thing is to work with the forms themselves. The functionality allows to fill in all the fields digitally, put a signature on them, and see the forms exactly as the government provides them, i.e. we generate digital pdf documents in their original view form, signed and filled out, and store them digitally.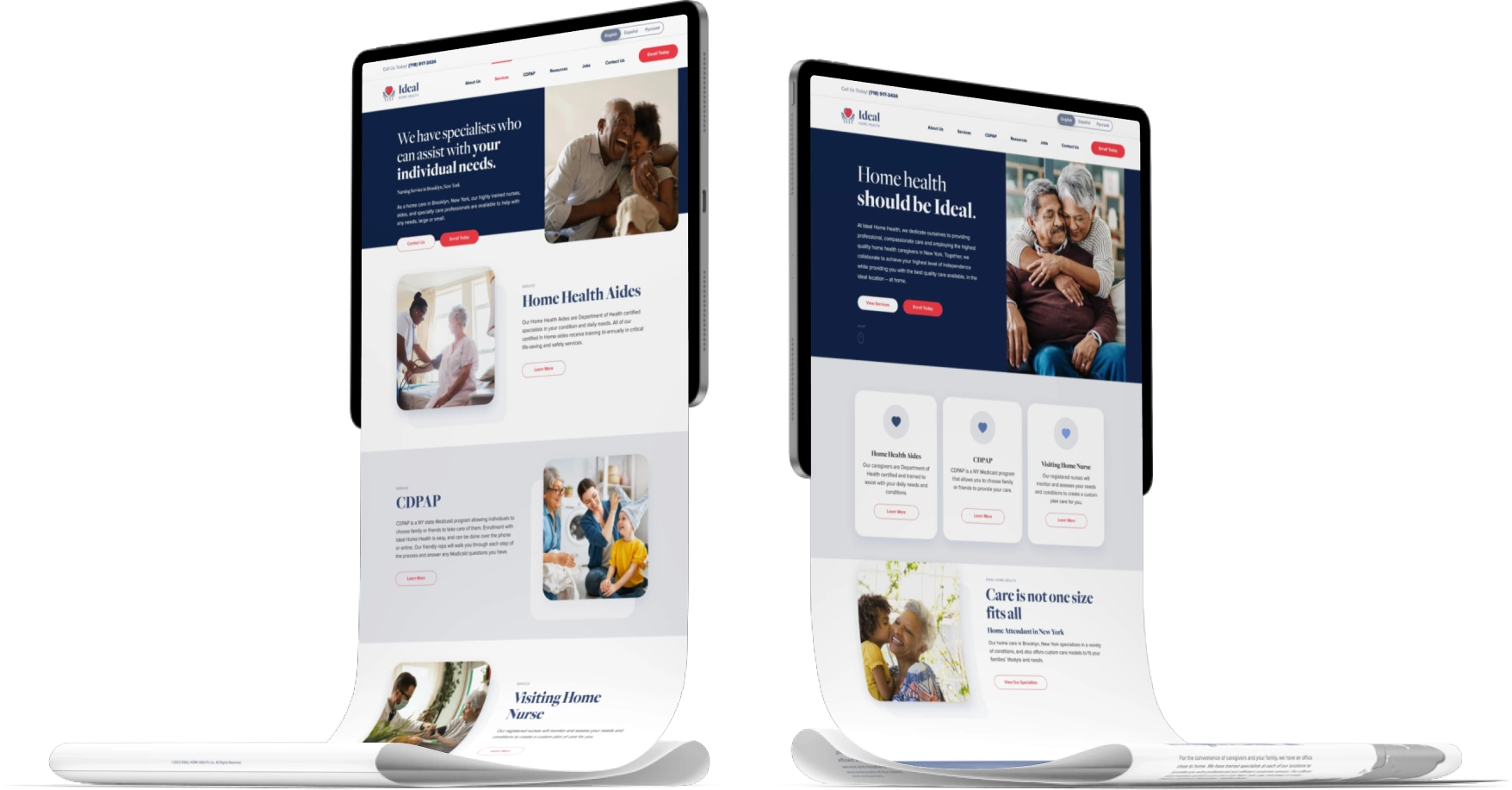 01

Enquiry & beginning
Scope of work and project kick-off
02

Discovery & research
Customers and competitors research
03

Wireframing & prototype
Digital sketching of your future site
04

UI & UX design
Visual creation of your future site
05

Coding
Bringing your future site to live
06

Quality check
Ensuring your project is bug-free
07

Deployment & release
Move site to your server
08

Post-launch support
Happy support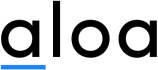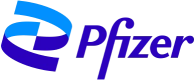 Request a quote
Drop us a line about your project and we will contact you as soon as possible.
The competitiveness of a modern enterprise depends entirely on the ability to meet the needs of the consumer and exceed his expectations regarding the quality of the goods and services provided. Understanding this, company leaders are faced with the need to implement a quality system that would allow:
optimize the management and production processes of the enterprise,
control the quality of products,
minimize the risks of marriage release,
and all this at a minimal cost of developing and implementing a new approach to quality management.
Our team can help with the software web development management system of any complexity. CMS is very good and useful.
What is a CMS
With the help of such an "tool", you can fill the web page with the necessary information, as well as view, correct and control the content of the online resource. Obviously, the name Content Management System clearly corresponds to the purpose of this program. Modern web content management systems are multifunctional. So, CMS is a large number of interconnected modules. Each of these modules performs specific tasks and is responsible for a specific set of web page elements. Acting on the principle of a constructor, the CMS engine helps to assemble a standard website from typical functional blocks. It is noteworthy that such a tool can be successfully used with little to no web programming skills. Web content management system (CMS) can be roughly represented as a combination of the following important components:
Database storage subsystem. It contains information about users of the site, its content, and other important characteristics.
Interface element storage subsystem. In essence, this is a store of objects that the user interacts with directly when viewing a web page.
Visual editor subsystem. It is she who allows you to design a website, composing it from building blocks.
Other modules that attach certain additional functions (options) to the site.
Those people who want to get the following benefits think about ordering management system development:
CMS does not require you to know any programming languages when using it. Everything is done in a graphical interface, often quite simple.
All components of the CMS, including itself and a set of extensions, can always be kept up to date without much effort. Our company provides support, not just system development.
The visual component of the CMS does not need to be worked out on your own. There are already ready-made themes that you only need to pay and install. And any added content will adapt to the selected design without having to change it manually. We will be happy to take on the development of the system and think through everything to the smallest detail so that the customer is as satisfied as possible with the cooperation and the resulting product.
All the necessary tools for promoting a resource are available in the CMS. All the SEO stuff, security apps, audience chats, social media buttons. Everything that you see on other sites can be added here in a couple of clicks by installing the appropriate plugin.
Information about the CMS is well documented, and it will not be difficult for you to find the necessary instructions or some kind of explanation.
Almost all engines have a role distribution function. It is possible to give certain rights to content authors, other moderators, third administrators without unnecessary movements. And further on the same principle.
Advantages of self-written systems
exclusivity
Full compliance with the tasks of the site (CMS will meet all the requirements of your project, as it is written for specific tasks. Unlike boxed versions, which have a set of modules for specific tasks, but sometimes their functionality is limited)
Installing the latest technologies (the developer, creating a CMS for you, can use the latest programming technologies).
When creating a unique engine, it is possible to take into account all the shortcomings of existing control systems and minimize them. At the same time, you can take your advantages from each finished system and develop them.
Using your own CMS, "sharpened" for a specific web resource, allows you to exclude various plugins, modules and add-ons that make the site heavier. And this means that it will load faster.
The probability of hacking a site created on a self-written control system is minimal. Since hackers mainly hack resources using uncovered "holes" in popular engines.
A minimum of extra code, which, again, has a positive effect on download speed.
The main principle of our work is the developing a performance management system for your tasks individually and for your line of business. We are ready to offer you a CMS content management system for your website, whether it be a bank payment portal, a corporate website or an online store. It is worth noting that outwardly CMS for a banking intranet site, a company and an online store are the same, although the field of activity and tasks are not similar to each other. We approach each project and client individually and develop software modules for you according to your tasks (managing the development of large software systems), because every type of business has its own challenges. If necessary, our CMS is easily expanded, we quickly add a new set of functions and modules. It is especially important to content management system development for large projects, in which the amount of functionality offered is very large and the content is frequently updated.
The key issue when developing a CMS for a banking site or creating a site for a company is: reliability, ease of use and guarantees. Therefore, when offering our website and web development management systems services, we are primarily interested in making it comfortable for you, as a client, to work with your website, as well as with our company, in case the website needs further support. Our system development manager is the best solution for your business.