Back to all articles
How To Convert Sketch Design To WordPress Website?
In today's digital landscape, having a strong online presence is crucial for businesses and individuals alike. A well-designed website can be a powerful tool to showcase your brand, attract customers, and drive conversions. However, not everyone possesses the technical skills or resources to create a website from scratch. This is where Sketch to WordPress or PSD to WordPress services come into play. In this article, we will explore the process of converting a Sketch design into a fully functional WordPress website, highlighting its benefits and offering practical insights.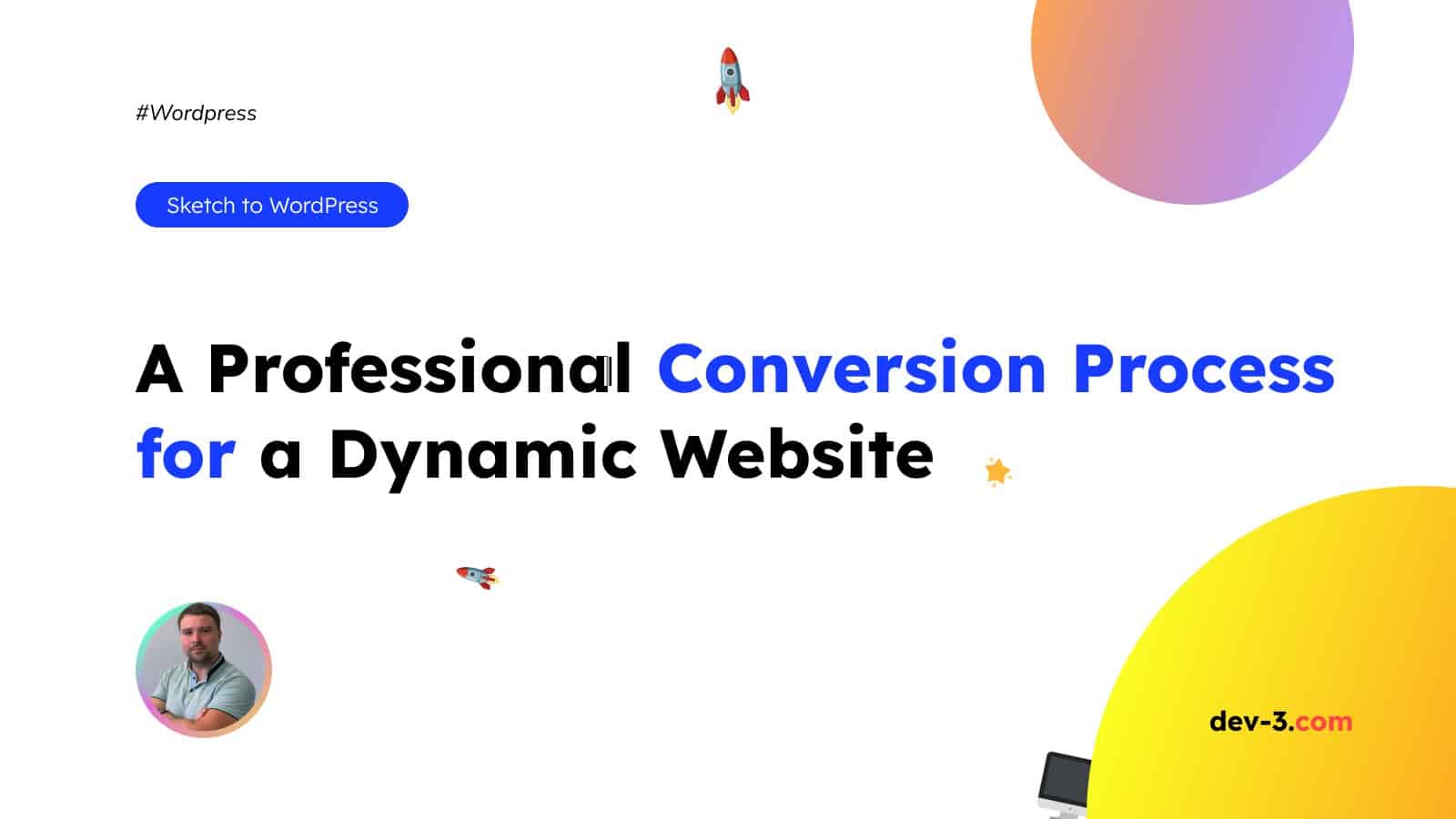 Introduction
Understanding Sketch and WordPress
The Benefits of Sketch to WordPress Conversion
The Process of Converting Sketch to WordPress

Step 1: Preparing the Sketch Design
Step 2: Slicing the Design and Exporting Assets
Step 3: Setting Up a WordPress Development Environment
Step 4: Converting the Sketch Design into HTML/CSS
Step 5: Integrating the HTML/CSS into WordPress

Best Practices for Sketch to WordPress Conversion

Ensuring Responsive Design
Optimizing Performance
Implementing SEO Best Practices

Hiring a Professional Sketch to WordPress Service

Factors to Consider
Evaluating Portfolios and Reviews
Communication and Collaboration

Conclusion
FAQs
In the world of web development, Sketch and WordPress are two popular tools that serve different purposes. Sketch is a powerful design software primarily used for creating stunning user interface (UI) and user experience (UX) designs. On the other hand, WordPress is a versatile content management system (CMS) that powers millions of websites across the globe. Converting Sketch designs into WordPress themes enables designers to bring their visual concepts to life and website owners to have a fully functional and customizable online platform.
Understanding Sketch and WordPress
2.1 Sketch
Sketch is a vector-based design tool developed specifically for macOS. It provides designers with an intuitive interface and a wide range of features to create visually appealing designs for websites, mobile apps, and more. Sketch offers extensive design capabilities, including artboards, symbols, prototyping, and collaboration features. Designers can create pixel-perfect layouts, define responsive breakpoints, and apply various styles and effects to their designs.
2.2 WordPress
WordPress is an open-source CMS renowned for its simplicity and flexibility. It allows users to create and manage websites without extensive coding knowledge. WordPress offers a wide range of themes, plugins, and customization options to tailor websites according to specific needs. It provides a user-friendly dashboard for content creation and editing, along with powerful features for search engine optimization (SEO), e-commerce, and multimedia integration.
3. The Benefits of Sketch to WordPress theme Conversion
Converting Sketch designs to WordPress themes offers several advantages:
Visual Consistency: By converting Sketch designs directly into WordPress, you ensure that the website's appearance matches the original design faithfully.
Customization: WordPress provides a vast array of customization options, allowing you to personalize your website further and add functionality through plugins and custom coding.
Responsive Design: Sketch to WordPress theme conversion ensures that your website is responsive, adapting seamlessly to different screen sizes and devices.
SEO-Friendly: WordPress has built-in SEO features and plugins that help optimize your website for search engines, improving its visibility and rankings.
Ease of Content Management: With WordPress, you can easily create, update, and manage your website content without relying on technical knowledge. The intuitive interface and user-friendly dashboard make content management a breeze.
Scalability: WordPress is highly scalable, allowing your website to grow alongside your business. Whether you need to add new pages, blog posts, or expand functionality, WordPress can handle it all.
Community Support: WordPress has a vast community of developers, designers, and users who actively contribute to its improvement. You can find resources, tutorials, and support readily available online.
4. The Process of Converting HTML Sketch to WordPress
Converting a HTML Sketch design into a WordPress website involves several steps. Let's walk through the process:
4.1 Step 1: Preparing the Sketch Design
Before starting the conversion process, it's crucial to ensure that your Sketch design is well-organized and optimized. Arrange your design elements on separate artboards and label them appropriately for easy identification during the slicing and coding process.
4.2 Step 2: Slicing the Design and Exporting Assets
Once your Sketch design is ready, the next step is to slice the design into individual components and export them as image assets. This includes extracting images, icons, logos, and other visual elements that will be incorporated into the WordPress theme.
4.3 Step 3: Setting Up a WordPress Development Environment
To begin working with WordPress, you need to set up a local development environment on your computer. This typically involves installing a local server environment like XAMPP or MAMP and setting up a new WordPress installation.
4.4 Step 4: Converting the Sketch Design into HTML/CSS
Now comes the coding part. Convert the sliced design elements into HTML and CSS code, ensuring that the code is clean, semantic, and follows best practices. This step involves creating the necessary template files, such as header.php, footer.php, and index.php, and translating the design into code.
4.5 Step 5: Integrating the HTML/CSS into WordPress
The final step is integrating the HTML/CSS code into WordPress. This involves creating a new WordPress theme folder, copying the template files into the theme folder, and adding WordPress-specific PHP tags and functions to make the theme dynamic. You'll also need to create a functions.php file to handle additional functionality and customizations.
5. Best Practices for Sketch to WordPress Conversion
To ensure a successful Sketch to WordPress conversion, consider the following best practices:
5.1 Ensuring Responsive Design
Design your Sketch files with responsive breakpoints in mind, and implement media queries to ensure your WordPress theme adapts seamlessly to different screen sizes and devices.
5.2 Optimizing Performance
Optimize your WordPress theme for performance by minimizing file sizes, compressing images, and using caching plugins. A fast-loading website improves user experience and SEO rankings.
5.3 Implementing SEO Best Practices
Make use of WordPress SEO plugins and follow SEO best practices when converting your Sketch design. Optimize page titles, meta descriptions, headings, and alt tags to enhance your website's visibility in search engine results.
6. Hiring a Professional Sketch to WordPress Service
If you lack the time, expertise, or resources to convert your Sketch design to WordPress, hiring a professional Sketch to WordPress service can be a wise investment. Consider the following factors when choosing a service:
Experience and expertise in Sketch to WordPress conversion
Portfolio showcasing previous projects and client testimonials
Communication and collaboration processes
Pricing and turnaround time
You can contact DEV-3 studio for professional sketch to wordpress conversion.
7. Conclusion
Converting a Sketch design to a fully functional WordPress website offers numerous benefits, including visual consistency, customization options, responsiveness, SEO-friendliness, and ease of content management. By following a structured process and implementing best practices,
you can successfully transform your Sketch design into a powerful WordPress website that aligns with your vision and goals. Remember to plan and organize your design, slice and export assets, set up a WordPress development environment, convert the design into HTML/CSS code, and integrate it into WordPress.
By adhering to responsive design principles, optimizing performance, and implementing SEO best practices, you can ensure that your Sketch to WordPress conversion results in a website that not only looks stunning but also performs exceptionally well in terms of user experience and search engine visibility.
If you find the process challenging or overwhelming, it's worth considering hiring a professional Sketch to WordPress service. Their expertise and experience can save you time and ensure a seamless conversion that meets your specific requirements.
Now is the time to take your Sketch designs and bring them to life on the WordPress platform. Enjoy the flexibility, functionality, and endless possibilities that come with having a well-crafted WordPress website.
FAQs
Is Sketch the only design tool that can be converted to WordPress? No, while Sketch is a popular design tool, you can also convert designs from other tools like Adobe XD, Figma, or Photoshop to WordPress.
Can I customize my WordPress theme after the conversion? Yes, one of the advantages of using WordPress is the ability to customize your theme. You can modify the design, add new features, and extend the functionality using plugins and custom coding.
Do I need coding knowledge to convert Sketch to WordPress? Some coding knowledge is beneficial for a smooth conversion process. However, if you lack coding skills, hiring a professional service can help you achieve the desired result without the need for extensive technical knowledge.
Are there any limitations to converting Sketch to WordPress? The limitations are mostly dependent on the complexity of your design and the functionality you wish to incorporate. Working closely with a professional service can help overcome any potential limitations.
What is the cost of converting Sketch to WordPress? The cost can vary depending on factors such as the complexity of the design, the number of pages, and the desired functionalities. It's best to consult with a Sketch to WordPress service to get an accurate estimate based on your specific requirements.
In conclusion, the process of converting Sketch designs to WordPress offers a seamless transition from design to a fully functional website. By following best practices, considering professional services, and leveraging the power of WordPress, you can create an engaging online presence that captivates your audience and drives your business forward.