Back to all articles
Yoast SEO vs All in One SEO Pack: The Better WordPress Plugin
Yoast SEO, also known as WordPress Yoast SEO vs All in One SEO Pack are two highly popular and comprehensive SEO suites available for WordPress CMS. Developed by Joost de Valk and Semper plugins, these tools have gained significant recognition and success in the market. In this article, we will conduct a detailed comparison and evaluation of both plugins to determine the ultimate SEO plugin for WordPress.
Ease of Setup Yoast Seo vs All in One Seo
Setting up and configuring Yoast SEO and All in One SEO Pack is a breeze as they can be easily found in the WordPress.org Plugin Repository. Dominating the search results for SEO these plugins are highly accessible to users. However, there is a distinction in terms of how the settings are organized.
Yoast SEO
Yoast SEO presents its settings in a clean and well-structured manner. The configurations are distributed across multiple pages and tabs, making it easy for users to understand and manage different settings effortlessly.
All in One SEO Pack
All in One SEO Pack offers a comparable number of configuration options as Yoast SEO, but its settings are consolidated on a single screen with separate tabs. This setup may appear overwhelming for beginners, requiring a bit more effort to navigate.
Both plugins provide startup tutorials, documentation, and comprehensive user guides to assist users during the setup process.
Core Features
When it comes to core features available in the free versions of Yoast SEO and All in One SEO Pack, these plugins offer tough competition to each other. It's worth noting that some features may be exclusive to the premium versions of each plugin.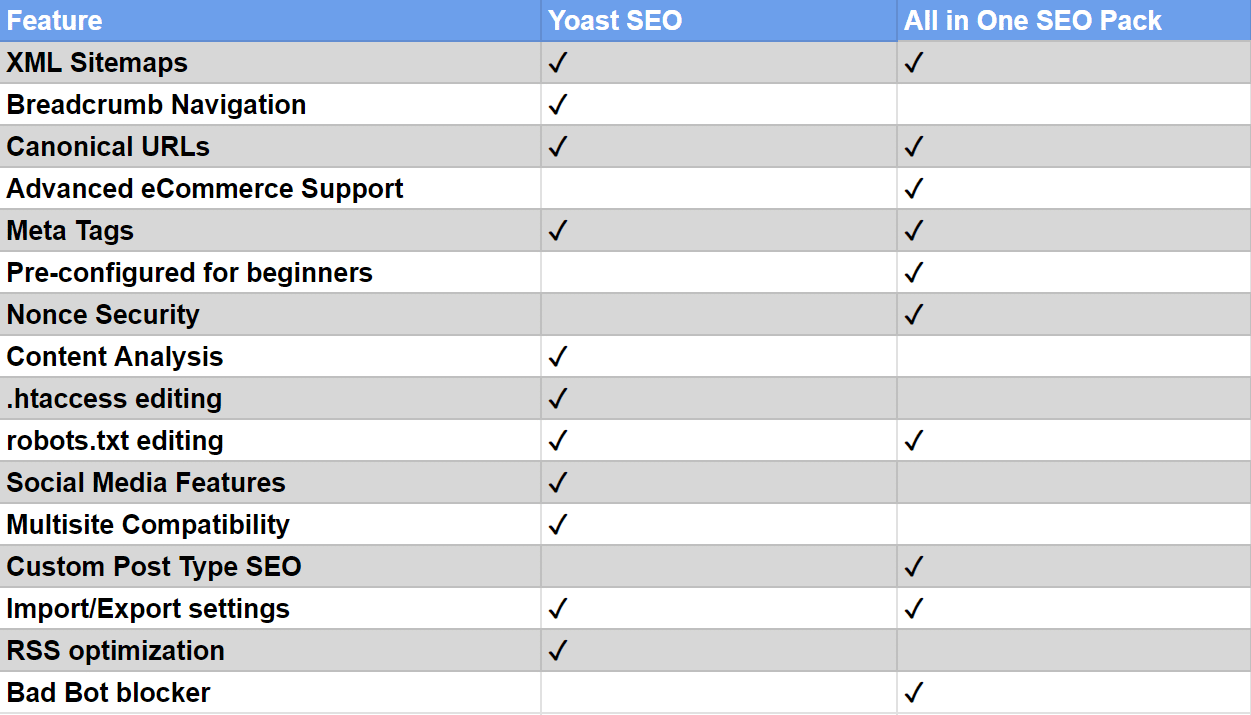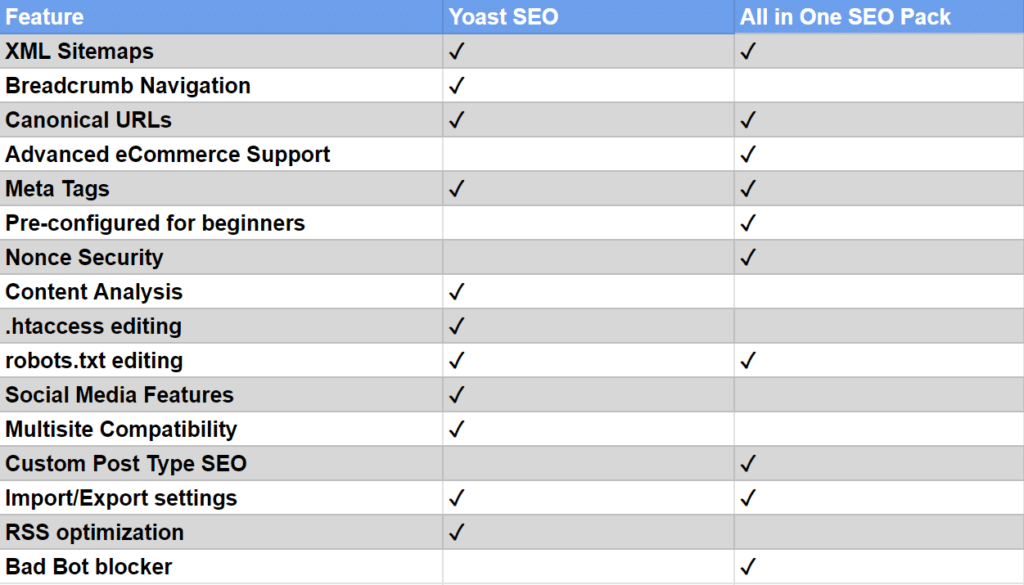 Verdict
For beginners and WordPress eCommerce store owners, All in One SEO Pack can simplify their SEO endeavors. On the other hand, advanced SEO users will find Yoast SEO to be an unbeatable choice.
Additional Features
While both plugins offer excellent functionality in their free versions, their premium versions truly shine with added benefits. Yoast SEO, in particular, stands out with its extensive range of extensions and features. Notable features include:
Redirect Manager: Easily redirect old URLs to new ones, which is particularly useful during domain or brand revamps.
Multiple Focus Keywords: Select different focus keywords for posts covering multiple subjects or using synonyms.
Social Previews: Preview how posts will appear when shared on social media platforms like Facebook and Twitter.
Yoast SEO also offers premium add-ons tailored to specific SEO requirements such as Local SEO, News SEO, and Video SEO.
Although not as extensive as Yoast SEO in terms of additional features, All in One SEO Pack's pro version offers remarkable functionalities, including:
Advanced WooCommerce Support
Feature Manager: A combination of various SEO modules catering to diverse needs.
SEO for Custom Taxonomies
Support for Schema.org rich snippets and Google Knowledge Graph
Advanced Google Analytics Support
Video XML Sitemap
Social Media Integration
Choosing between Yoast SEO and All in One SEO Pack depends on your specific needs and preferences. While both plugins have their strengths, it's important to consider factors such as ease of use, core features, and additional functionalities offered in their premium versions. Ultimately, the decision should align with your budget and requirements.
Working with the agency DEV-3 can significantly enhance your experience with SEO plugins. Their expertise and support can provide valuable insights and assistance, ensuring that you make the most of these powerful tools.